Buy this if you want something badass:
http://www.hardracing.com/Xenon.htm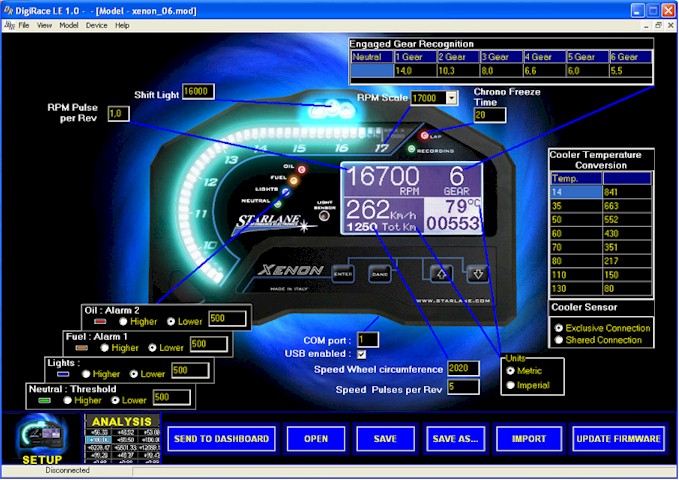 The new Digital Dashboard XENON-S has been developed directly from Starlane's experience in MotoGP, Superbike and Supersport championships.
Its black anodized aluminum body is shock absorbent, XENON-S is different from LCD widescreen systems because of its own rev counter particularly clear with the new ultra-bright LEDs that make it perfectly readable even with direct sunlight or from an angular position, moreover these LEDs avoid the delay in displaying the RPM that usually affects the LCD systems.
The new universal dashboard is totally settable with bike's parameters both from the multipage menu and from the supplied DigiRace LE software.
As optionals are available the Plug Kits for the most common bikes that include the connection loom that fits directly in the factory harness. Through the supplied software Digirace-LE it's possibile to download lap times (triggered by the Infrared Kit accessory) and maximum values for Speed, RPM and Temperature, all the data can be saved in a file and printed.
Specifications:
Ultra-bright cyan LEDs rev counter with automatic regulation based on ambient light
Settable Shift Light
Black anodized aluminum body
3 settable alarms (e.g. Neutral - Reserve- Oil)
Display indication for: RPM, SPEED, TEMPERATURE, TOTAL KMs, PARTIAL KMs, ENGAGED GEAR, LAP
TIME, BEST LAP
Membrane touchpad
Multipage menu
Automatic Chrono with 1/100 sec. resolution
Double-function Best Lap LED ( lights up continously if improved from previous lap and blinks if best lap completed)
Storage of max values for Speed - RPM - Temperature
Storage of 999 laps divided in maximum 99 sessions
Available in 4 different RPM scales: 13000 - 15000 - 17000 - 20000 RPM
Backlit Graphic Display
Units of measurement settable in Metric or Imperial units (Km -°C o Miglia-°F)
Parameters settings from both, the display menu and the supplied software Digirace-LE
Data download on PC through USB cable and printing of lap times divided in sessions and max Speed - RPM - Temperature values of each session
Size: Width 155mm. - Height 102mm. - Depth 30mm.
Water resistant
Universal installation or specific with optional Plug Kit for the most common bikes
Cars and Motorbikes
The GPS Track Analysis window shows the circuit with the path drawn by the driver.
The RED zones show the ACCELERATION phases and the BLUE the DECELERATION.
The vehicle position is shown buy a yellow marker that can be positioned at will with the mouse or moved by the , keys.