Thought a few of you might actually like this. Apparently, if your bike looks sharp enough, you can get it put on this app program. Nothing to write home to Mom about, but I thought a few might be interested... Doesn't look like its been around for too long, but it has pretty good ratings
Quote:
Description
Motorbikes is an rich organizer which shows you some pictures of Motorbikes.
Motorbikes is an rich organizer which shows you some amazing pictures of Motorbikes.
You can upload a photo of your favorite Motorbike in the application.
Once administrator approves your picture, your car will be published in the section "Your Motorbikes".
Also you will find brands marks such as:
• Honda
• Yamaha
• Ducati
• Suzuki
• Kawasaki
• BMW
• Harley Davidson
and many more...
Do not forget to share the application with your friends on Facebook, Twitter, Google +, Gmail and other social networks...
The program will be automatically installed on your SD card.

Join to Facebook group: http://facebook.com/tonee.org
Follow me on Twitter: http://twitter.com/toneff
Thank you for choosing "Motorbikes" application !
••• PLEASE READ •••
In order to keep the app 100% free, you will receive the following:
• Search shortcut icon on your home screen.
• Search shortcut on your bookmarks.
This will help me bring you more cool apps like this in the future.
You can delete the search shortcuts easily (Drag & Drop to the garbage), this will not affect the application in any way.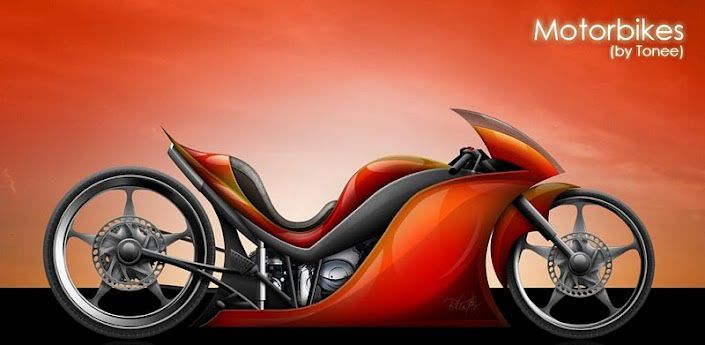 https://market.android.com/details?i...3RvcmJpa2VzIl0
.