so my RR is out. i have another one laying around from a more modern bike that i want to wire up.
pics and a post are jacked from another thread but u get the general idea.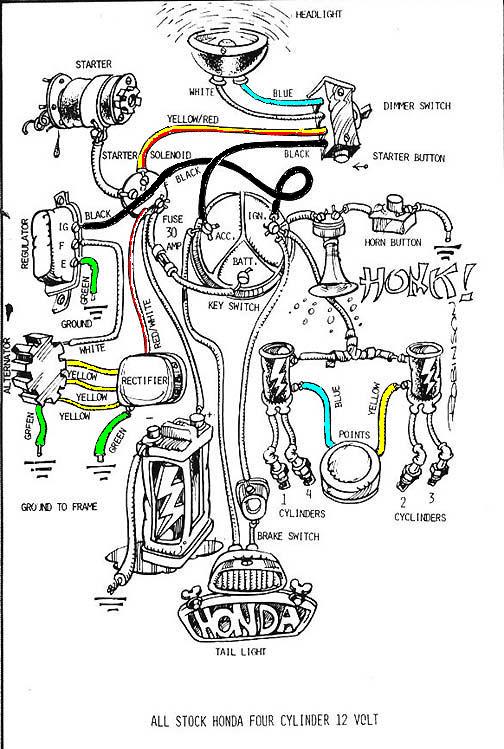 in its stock form that is what the wiring looks like (pretty good creativity too IMO). now as we or most of us know, modern bikes have a 5 wire; 3 wires from stator and (+ and -) to powerbike/charge battery
i believe my regulator (not rectifier, doesnt really matter because its all in one assy/unit) has failed because stator out put is very low ~5-9 ACV but passes a continuity test and resistance test. which IMO means the regulator is not supplying/regulating voltage to the field coil to produce necessary ACV power. that, plus a resistance test and diode test for the rectifier checks out.
Quote:
So im really digging up this thread here, but I thought I would share what I know on the topic anyway.

The white wire is in fact the field coil wire. The way the old regulator works is it adjust the power going to the field, which in turn adjusts the voltage come out of the alt.

**The following is pure speculation:**
I'm assuming that the field voltage varies between 0-12volts DC as it is coming from the battery (in effect). If you unhook the white wire and the black wire from the regulator and connect them to each other, you should get MAX output from the alternator at all times. This is effectively what the CBR RR is looking for, and it uses a clamping resistor to burn off any excess voltage. This is why the CBR RR has big heat sinks, it is basically turning excess power into heat.

Once you wire the black and white wires to each other, you install the CBR RR in place of the old rectifier.

While I am fairly certain I am correct in this, I cannot guarantee its validity
basically what that dude said is what i have gathered and have previously thought about by looking at the service manual and wiring diagrams before i stumbled upon the thread. has anyone done this before? I think this will work but before i up anything i thought i would ask some of the old schoolers on here (no offense of course).
if i get no answers i will still try it anyway. i will try one step at a time though IE: stator wire disconnected and full power going to the field coil, measure ACV from 3 wires. if that checks out i will install the modern RR with no connection to battery and measure DCV output. if all checks out i will wire/install everything and hope it works out for the better :fingerscrossed: